As someone who has traveled to California throughout the years, I have first hand witnessed the demise and destruction of a former White paradise. San Francisco in particular has been especially degenerated into a semitic circus. There are many things that are wonderful and healthy (read: White) about San Francisco and the Bay area such as: the weather, the amazing redwood forests, the farmer's markets, the abundance of plant based restaurants and the awesome thrift shopping.
But there are also numerous vile and unsettling things such as: the multiculturalism (really multiracialism), the LGBTP insanity (which is inescapable), the drug addicts (many of them White), the homeless (many of them also White) and how could I forget the streets that are regularly strewn with feces, needles and tents? Perhaps San Francisco's poop problem is a metaphor for the racial browning of the Golden State.
In the last eight years, the number has increased gradually and is now five times the number it was in 2011.
In addition to all of this, San Francisco is one of the most (if not #1) expensive areas in the country to live. A six-figure salary is actually considered low income. Imagine paying thousands of dollars in rent each month only to be living around human(?) scum and spiritually sickening propaganda at every turn.
I have taken pictures of some of the things I have seen. Before I was awake to the (((root))) problem in our world, much of what I saw I felt was disgusting, but I didn't go out of my way to speak out about it publicly. Now is the time to not be shy or timid and share information that can assist in opening the eyes of our people.
"Imitation is the Whitest form of flattery." Oh really?  Then how come every beauty standard is based on Whites?
"Cultivating Resistance." According to the Clarion Alley Mural Project, The mural depicts Trump spewing out Twitter birds with words such as xenophobia, misogyny, and racism, pipelines spilling oil, democracy crumbling, and an image of Steven Bannon in a KKK hood holding the scales of justice. At the center of the image, all people stand together investing in their environment, in education, and in criminal justice reform. They are insulating the fledgling tree with their activism.
"No ban on stolen land. White man is a fool —> native man will have his day." That's right – native man (us) will have our day.
This is a slogan we can use to our advantage when making others aware of the Solutreans.
"End Apartheid B.D.S."  Not a fan of this word, but it's good to see even a small bit of resistance.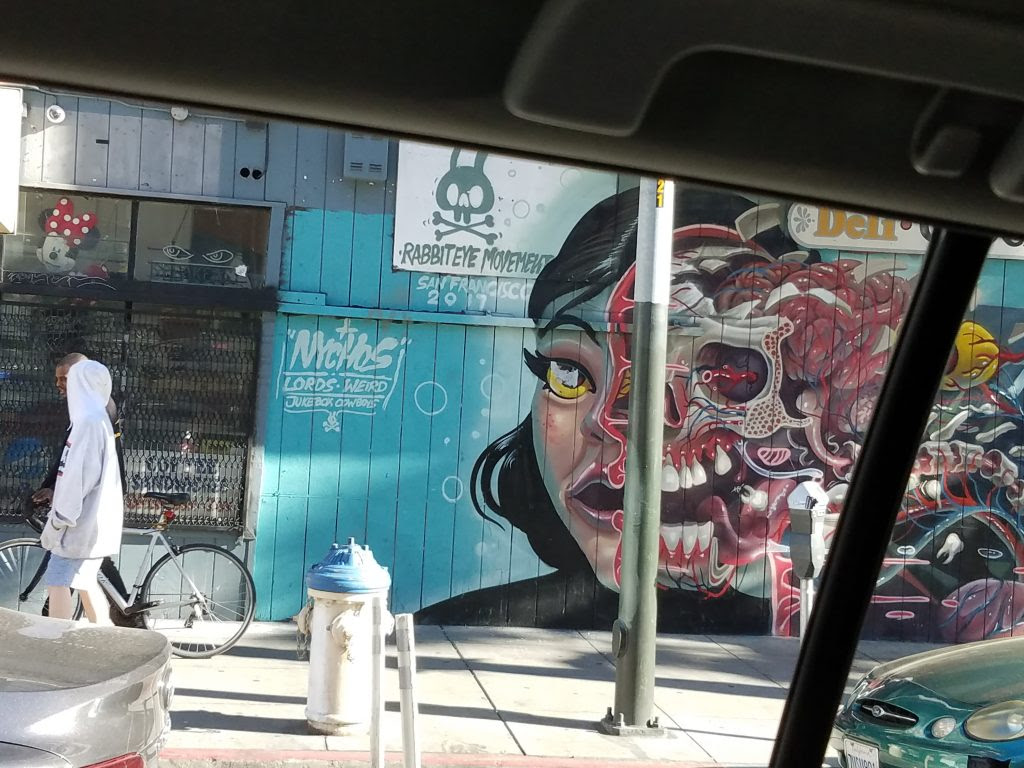 Random degenerate "art." Lots of death themes in this ultra Mestizo area.
Loser alert: a Commie bookstore shilling for Democracy.
The LGBTP flag and the transgender flag are literally everywhere; including churches.  How do you like that Christards?
A kakistocracy is a system of government that is run by the worst, least qualified, or most unscrupulous citizens.  The word was coined as early as the seventeenth century.  Isn't this usually the case?
"I love my Muslim neighbor." Does that include female genital mutilation and Halal butchery?
"Men!  All of you: put your guns down." Do it quickly so I can rub my hands together in glee!
More degenerate "art" from a genital themed cake company. Because normal cake is isn't edgy enough.
Sources:
www.foxnews.com/us/san-francisco-sees-brownout-amid-spike-in-public-pooping-reports-say
https://www.bbc.com/news/world-us-canada-44725026
https://clarionalleymuralproject.org/mural/cultivating-resistance/
https://www.dailymail.co.uk/news/article-6924787/Interactive-map-reveals-staggering-number-human-waste-San-Franciscos-streets.html